Earn 17x the national average
With High-Yield Checking from TDECU, you'll earn up to 2.50% APY1 on your checking and savings account balances. Ready to earn more? Open your account today!
Get the most from your checking account
Your checking account should offer more than day-to-day banking features – it should support your financial goals. With no monthly minimums, surcharge-free ATMs and the option to earn up to 17x the national average on your account balances, TDECU is here to help you on your financial journey. Choose from our flexible checking account options, including high-yield, free, teen and business accounts. Looking for other ways to save or earn rewards? Check out our savings accounts and Mastercard® credit cards.
All TDECU Checking Accounts feature these benefits:
Annual Percentage Yield (APY)
55,000+
Surcharge-free ATMs Worldwide
Compare checking accounts
Checking account options that support your financial goals.
A checking account that yields 17x more than the national average2.
A personal checking account that frees you of unnecessary fees4.
A checking account to help teens, ages 13-17, develop solid financial habits.
A checking account for those who need help rebuilding financial status.
Features and Services for Checking Account Holders
In addition to no minimum balance requirements, TDECU checking accounts also include the following services and benefits: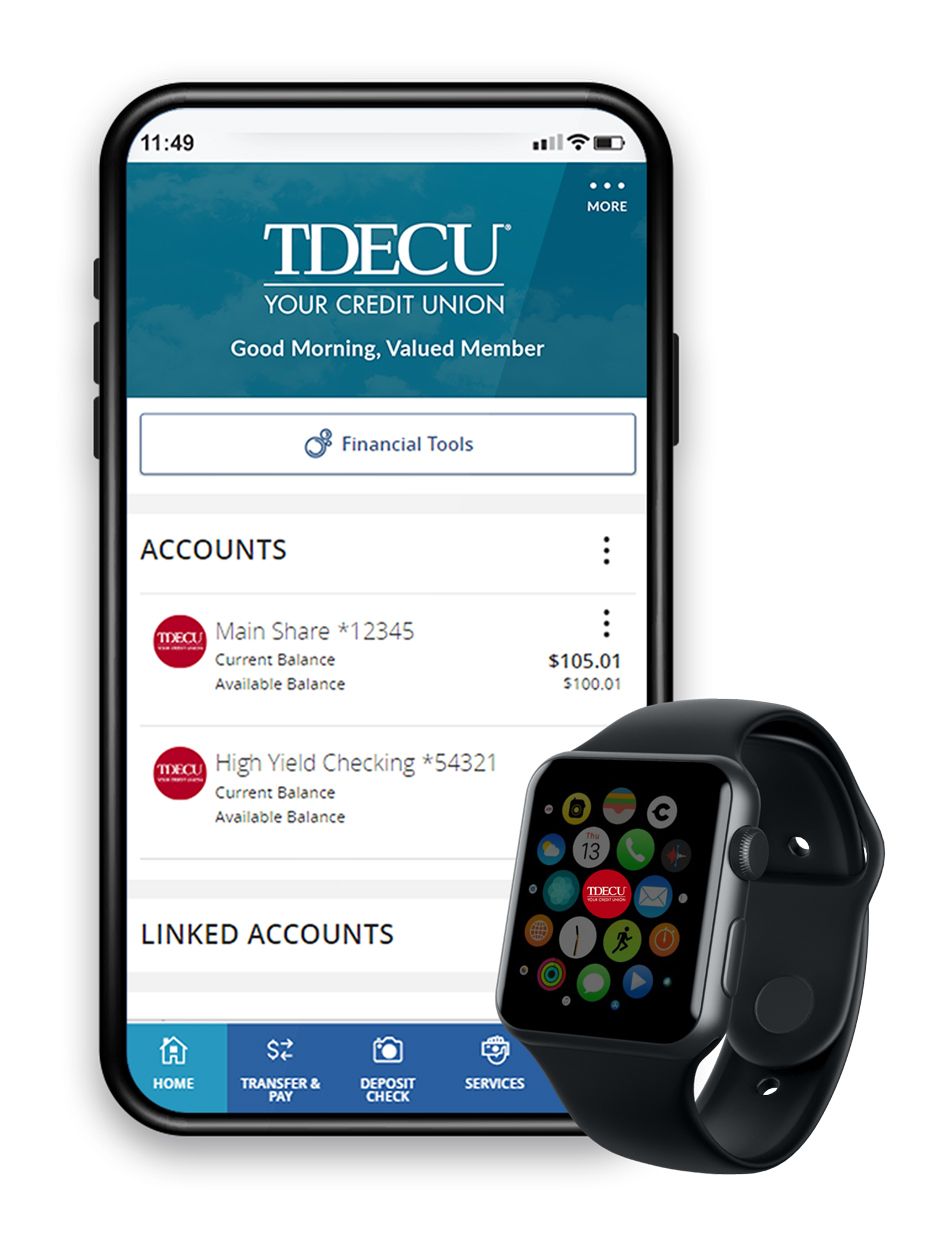 1APY = Annual Percentage Yield.

2Must be at least 18 years of age to open a High-Yield Checking (HYC) account with a limit of one account per Member. Requirements to earn the highest APY include enrollment in eDocuments, recurring direct deposit with an aggregated total of $500 or more per month that posts to your HYC account, and a minimum of 10 debit card point-of-sale withdrawal transactions of $1 or more per month. The highest APY includes 2.50% on HYC balance up through $20,000 and 0.25% on any HYC balance over $20,000; 1.00% APY on primary savings balance up through $50,000 and 0.25% APY on primary savings balance over $50,000. If requirements are unmet, accounts will earn an APY of 0.02% on HYC balances and 0.10% on primary savings balances. Account holders will receive a maximum rebate of $30 monthly on non-TDECU ATM fees. The 17x the national average earning rate is as of 10/11/23. Other terms/conditions apply. Rates are subject to change without notice. Contact TDECU for complete details. Insured by NCUA.

3 Faster access to funds is based on a comparison of traditional banking policies and deposit of paper checks from employers and government agencies versus deposits made electronically. Direct Deposit and earlier availability of funds are subject to payer's support of the feature and timing of payer's submission of deposits. We generally post such deposits on the day they are received which may be up to 2 days earlier than the payer's scheduled payment date. Exceptions may apply.
4Free refers to no monthly maintenance fees. Subject to account and penalty fees. See fee schedule.

New Forward Checking accounts are no longer offered. However, we invite you to check out our new High-Yield Checking account which offers higher rates and additional benefits, all without a monthly fee! Members with Forward or Free Checking are encouraged to upgrade to a High-Yield Checking account. Should you have questions about upgrading or your existing account, please call us at (800) 839-1154.

For our High-Yield Checking accounts only, members qualify for Identity Theft Recovery Services; see the Member Handbook for additional information regarding this benefit.