New to TDECU?
Start off right when you apply online as a new Member. We will deposit $5.00 directly into your Share Savings Account to help you start your savings journey.
Why a savings account?
A savings account is a powerful financial tool. It can help curb your temptation to spend, protect you from financial difficulties, and help prepare you to make a big-ticket purchase like a home or a car. With the right savings account and a plan to move money into the account each month, you can enjoy financial stability for years to come.
TDECU Savings Accounts feature these benefits:
0.10%
Interest Rate Paid Monthly
Annual Percentage Yield (APY)
$0
Monthly Maintenance Fee
Compare saving accounts
A wide range of options to help you meet your savings goals.
Kids Savings Accounts
Kid-friendly accounts with grown up features so they can save just like you.
Kids Club Savings Account
A savings account designed for kids ages 4-12.
A savings account to help develop solid financial habits for teens ages 13-17.
A custodial account to save for your child's future.
Certificate of deposit (CD)
Earn more interest than traditional savings. You choose the term that best fits your needs.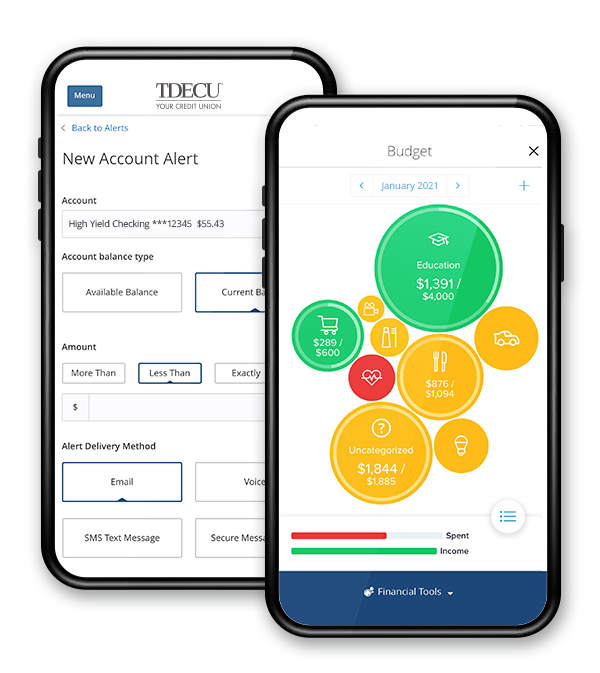 1
APY = Annual Percentage Yield.
2
Must be at least 18 years of age to open a High-Yield Checking (HYC) account with a limit of one account per Member. Requirements to earn highest APY include enrollment in eDocuments, recurring direct deposit with an aggregated total of $500 or more per month that posts to your HYC account, and a minimum of 10 debit card point-of-sale withdrawal transactions of $1 or more per month. Highest APY includes 1.00% on HYC balances ≤$20,000; 0.25% on HYC balances >$20,000; 1.00% APY on primary savings balances ≤$50,000; 0.25% APY on primary savings balances >$50,000. If requirements are not met, accounts will earn an APY of 0.02% on HYC balances and 0.10% on primary savings balances. Account-holders will receive a maximum rebate of $30 per month on non-TDECU ATM fees. Other terms/conditions apply. Contact TDECU for complete details.
Federal regulations limit the number of transfers/withdrawals from a savings account to six per calendar month via fax, telephone, online, ACH, or overdraft. You may transfer/withdraw as often as you like in person, via mail or messenger, ATM, or to pay loan payments.
Refer to TDECU's
Member Handbook & Truth in Savings Brochure
for additional terms and conditions.