What can a TDECU business loan do for you?
Allow you to expand your operations
Build up your credit
Offer you low-interest rates
Solve cash flow and unexpected

expenditure issues
Take the next step to grow and thrive
Your TDECU team is here for you every step of the way, with the expertise and solutions to meet all your business objectives. We understand business and its challenges, so we provide you with a wide range of lending solutions and industry specialists to create personalized financial options just for you. And you may not know, but we have more business lending capabilities and offerings than even the largest local banks in our area. With a positive, hassle-free, and efficient lending experience from purchases, to builds, or remodels, TDECU has you covered.
TDECU Business Loans feature these benefits:
Business Loan Options
Established in 1955, TDECU has a history in the local area, and more than $4.7 billion in assets. We are the largest credit union in the Houston area, so we can review each opportunity individually and provide you with experience, low rates, flexible terms, and quick approval, ensuring you end up with the right loan for your needs.
Commercial Real Estate Loans
Unlock your real potential with a TDECU Commercial Real Estate Loan.
We can help you secure financing for a variety of commercial real estate types, such as:
Commercial mortgage
Owner-occupied real estate
Non-owner-occupied/Investment
Our loans are designed to work for you. TDECU commercial real estate loans give you:
Amounts ranging from $150,000 to $20 million
Up to 25 Year Term
APR1 from 7.55% - 10.99%2
Flexible loan options
Fixed interest rates
Construction Loans
Our construction loans are designed to support your growing business and we are here to guide you from beginning to end.
We understand the twists and turns of construction projects and will help to ensure it is completed on time and on budget.
Our commercial construction loans include:
New ground-up construction
Expansion to current location
Residential Builder Lines of Credit
Remodels or renovations
We offer commercial construction loans with:
Amounts ranging from $150,000 to $20 million
Up to 25-year terms
APR1 from 7.87%2
Flexible loan options
Fixed interest rates
Interest only payments during construction
SBA Backed Loans
TDECU is a Preferred Lender with the Small Business Administration (SBA) Loan Programs.
With these flexible financing programs, TDECU offers extended loan terms we might not be able to otherwise offer, including:
Amounts ranging from $75,000 to $10 million
Long term financing
Low down payment options
Fixed/Variable Interest
Line of Credit for working capital/inventory
Commercial Line of Credit
A revolving line of credit offers you access to cash need when you need it.
Amounts ranging from $50,000 to $2 million
12–60-month terms
APR1 ranging from 10.25% - 15.99%4
Fixed/Variable Interest
Line of credit for working capital/accounts receivable financing
Commercial Equipment Loans
Loans for heavy commercial vehicles, manufacturing equipment, and medical equipment.
Amounts ranging from $20,000 to $250,000
48 to 72 Month Terms
APR1 starting at 7.99%3
Commercial Vehicle Loans
Financing for vehicles manufactured for consumer use but titled in your business name. Trucks up to 3/4 ton are included.
Amounts ranging from $20,000 to $100,000
48 to 84 Month Terms
APR1 starting at 6.75%3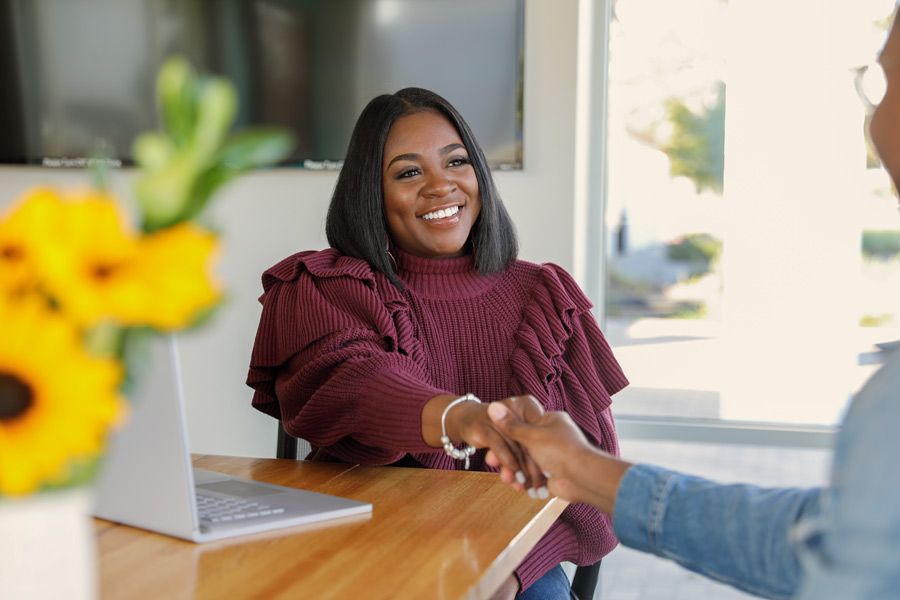 Ready to apply for a TDECU Business Loan?
We are here and ready to find a financial solution to meet your business needs.
1APR = Annual Percentage Rate.
2Rate dependent on fixed or floating rate option, property type, and credit qualification.
3Rate and term based upon vehicle make, model, and credit qualification.
4Rate, term, and maximum limit based upon collateral and credit qualification.
Rates, terms, and conditions subject to change. Credit subject to approval. Other rates are available.