Looking to refinance?
With TDECU, you can easily refinance your RV loan3 from another financial institution to decrease your monthly payment amount or adjust your loan term. With rates as low as 7.25% APR1, why wait?
Adventure awaits. Are you ready?
If you are ready to get behind the wheel and see the rest of the country, purchasing a recreational vehicle (RV) will get you there. You can escape for a weekend or a month, all on your schedule, without giving up the comforts of home.
With affordable financing from TDECU for new and used RVs, now is the time to make your dream a reality. Our RV loans come with flexible terms, including:
Rates as low as 7.25% APR, which includes a discount for recurring direct deposit of $250 or more1
No payments due for 90 days2
No money down option available
Terms up to 144 months
No hidden fees, costs, or early-payoff penalties
Apply today and start planning for your next great adventure!
A TDECU RV Loan features these benefits:
Finance your new or used RV with TDECU one of the following ways:
Get pre-approved for your loan
Complete your application online, in person, or over the phone to receive your pre-approval before you begin shopping for your RV.
Finance at the dealership
You can finance your RV with TDECU directly from one of the hundreds of dealerships we serve. When you find the RV you want, simply tell the dealer you want your loan through TDECU.
Here's the documentation you need to get started
For all RV loans
We will need:
Your employment, monthly income, and housing information
Requested loan amount (should include the purchase price, taxes, title, license, and warranties, minus your down payment)
Requested loan term
If you plan to trade in your current RV
We will need:
Title
Current loan information (if applicable)
Registration and license information
Already found your new RV or planning to refinance with TDECU?
We will also need:
Vehicle Identification Number (VIN)
Exact mileage
Name of the dealership or seller (if purchasing a RV)
TDECU RV Loan Frequently Asked Questions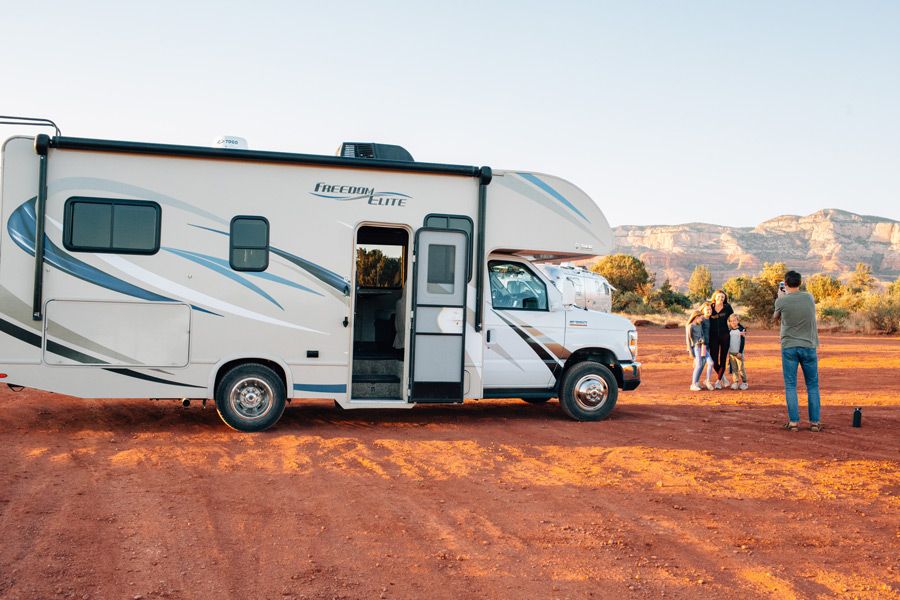 Ready to start the application process?
Start online, in person, or over the phone.
1 APR = Annual Percentage Rate. Advertised rate includes a 0.25% discount for a recurring direct deposit with an aggregate total of $250 or more per month to a TDECU savings or checking account. Rate received is determined by loan term and credit score. Terms of repayment: A $30,000 loan with a 72-month term at 7.25% APR equals a $515.10 monthly payment.
2  Interest will be charged to your account from the original loan date on the unpaid balance during the 90-day payment deferral period. Loan-to-Value must be less than 110% and a minimum credit score of 660 is required to qualify for the deferred payment option.
3 Existing TDECU loans are ineligible for refinancing.
4 Insurance products are not deposits, not NCUA insured, and not guaranteed by TDECU Insurance Agency, LLC or Texas Dow Employees Credit Union (TDECU).
Credit approval required. Minimum loan amount for boats, RVs, and leisure vehicles is $5,000. Collateral must be for personal use only. Other terms/conditions apply; contact TDECU for details.