TDECU Cares Giving Guidelines
Learn about our three focus areas and criteria for grants and support
Ready to request support?
To request a donation or sponsorship, please review our guidelines and if you meet our qualifications, complete the form. Prior to applying and consideration, applicants are requested to review the guidelines to determine eligibility.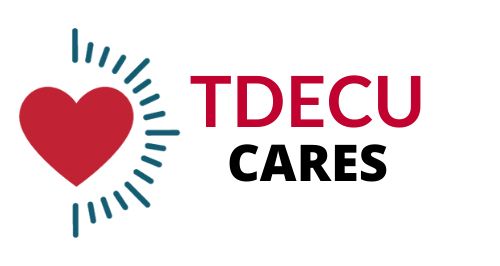 We are here for our communities
TDECU collaborates with a range of local nonprofit organizations that align with our strategic funding priorities of education, health and well-being, and community enrichment initiatives.
Grants are only made to 501(c)(3) non-profit or qualifying non-governmental organizations, with an emphasis on programmatic support. Special events and fundraising support are generally not considered. Priority is given to organizations that align with TDECU Cares' strategic focus areas and provide opportunities for employee volunteerism.
The key focus areas of TDECU Cares include:
Education
Financial education
STREAM education (science, technology, reading and writing, engineering,

arts, and math)

Student Member scholarships
Community Enrichment
Life skills development for youth
Community revitalization
Workforce development
Health & Well-Being
Wellness and prevention
Meal services
Emergency services
Grant Eligibility
Prior to making a request, please review these guidelines to determine eligibility for consideration.
To receive funding for any type of grant, organizations must:
Have tax-exempt status under IRS code 501(c)(3), or be a qualified governmental agency, tribal entity, or public school

or school system

Located in one or more of the counties we serve 
Demonstrate fiscal and administrative stability
Deliver services addressing critical community needs that align with our strategic focus areas
Grant proposals are evaluated based on the following considerations:
Ability to measure and report on established outcomes-based success metrics aligned to strategic objectives, which includes providing a forecast of expected outcomes in the application and will require an end of year impact report with actual project/program results
Promote diversity, equity, and inclusion
Incorporate volunteerism opportunities
TDECU will not consider grants for:
Individuals
Organizations that discriminate, including but not limited to, based on race, gender, gender identity, sexual orientation, ethnic origin, country of origin, citizenship, veteran, or disability status
Religious organizations, unless they are engaged in programs that are non-sectarian, benefit a broad base of the community, and have a separate 501(c)(3) designation
Political action committees, candidates, causes, and lobbying
Labor, alumni, or fraternal groups
Recreation, athletics, or sports teams, programs, or leagues
For-profit entities, including start-up small businesses
Please note: TDECU does not seek and rarely funds unsolicited grant applications and project proposals. TDECU typically chooses to work with community organizations with which we have established or proactively developed relationships.