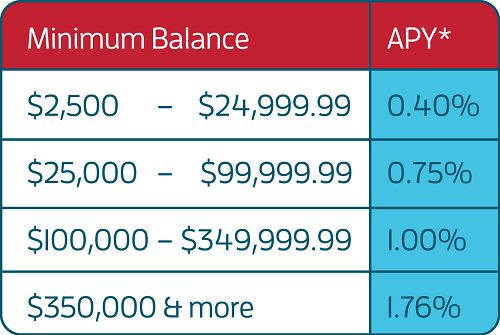 Get the best of savings and checking accounts combined, with a TDECU Money Market Account (MMA). With higher savings and easy access to your funds, you'll love that this account helps you keep up with your busy life while helping you save more.
Our flexible Money Market Account lets you transfer and withdraw funds and pays you guaranteed returns that are higher than what you can earn with a traditional checking or savings account. It's a win-win.
APY = Annual Percentage Yield. APYs, terms & conditions are accurate as of 1/14/19 and are subject to change without notice. A minimum initial deposit of $2,500 is required on all Money Market Accounts. A $10 monthly maintenance fee applies if the daily balance falls below the minimum balance requirement of $2,500 at any time during the month. Federal regulations limit the number of transfers/withdrawals from a money market account to six per calendar month via fax, telephone, online, ACH, or money market check. You may transfer/withdraw as often as you like in person, via mail or messenger, ATM, or to pay loan payments. Fees could reduce earnings on accounts. Refer to TDECU's Account Information & Truth in Savings Brochures for additional terms & conditions.