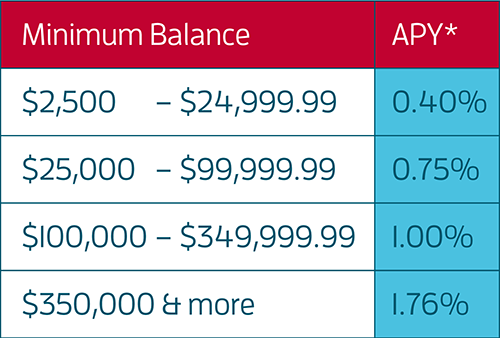 Put your savings to work with a safe, higher interest Money Market Account (MMA) – all while continuing to transfer and withdraw your funds as needed.
With an MMA from TDECU, enjoy greater flexibility than a Certificate of Deposit and higher interest rates than Classic Checking or savings accounts.
*APY = Annual Percentage Yield. APY, terms, and conditions are accurate as of 11/1/2018 and are subject to change without notice.
A minimum initial deposit of $2,500 is required on all Money Market Accounts. A $10 monthly maintenance fee applies if the daily balance falls below the minimum balance requirement of $2,500 at any time during the month. Federal regulations limit the number of transfers/withdrawals from a money market account to six per calendar month via fax, telephone, online, ACH, or money market check. You may transfer/withdraw as often as you like in person, via mail or messenger, ATM, or to pay loan payments. Fees could reduce earnings on accounts. Refer to TDECU's Account Information & Truth in Savings Brochures for additional terms and conditions.