With as little as $1,000 to open and terms up to 60 months, a Certificate of Deposit from TDECU ensures you save more – and earn more. You'll enjoy market-leading returns and the ability for you to bump up your rate one time during the term of your CD. It's a simple, risk-free savings tool we just know you're going to love.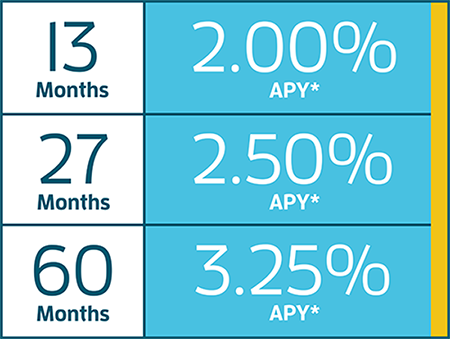 Experience more than just great rates and a bump-up feature.

With CDs from TDECU, you'll also receive:
Higher deposit rates than those provided by traditional banks
No additional deposit except at maturity
Withdraw interest without penalty
Dividends compounded and paid monthly
This is a limited-time offer, so take advantage of these great rates today!
No hidden fees. No gimmicks.
Open with as little as $1,000. Plus, bump up your rate in the future.
*APY = Annual Percentage Yield. APY, terms, and conditions are accurate as of 8/20/18 and are subject to change without notice. CD = Certificate of Deposit. Bump-up option allows a one-time rate increase to TDECU's current published CD rate for like term and is not valid on auto renewing CDs. To receive a bump-up rate increase, you must call or visit TDECU. Other restrictions may apply. A penalty will be imposed for CD withdrawals made before maturity. Fees could reduce earnings on accounts. Refer to TDECU's Account Information & Truth in Savings Disclosure (pdf) for additional terms and conditions.