TDECU Business Financial Services
For Texas Companies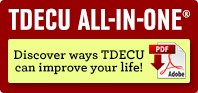 Are you a business owner?
The success of your enterprise is determined, in large part, by how you manage your company's financial resources. Whether you are seeking a small business loan, need a line of credit, require merchant lending or have any other financial need for your business, we have what you need.
TDECU Business Services is a perfect partner for your business banking relationship. From commercial real estate loans and working capital loans to our stellar Business Checking, we'll help your business get the innovative products and great service an owner deserves.
LOAN PRODUCTS INCLUDE:
SBA Guaranteed* and Conventional Loan Programs available for:
Commercial Loans for Real Estate, Construction, Business Expansion, Vehicles, Equipment
Business Lines of Credit available for working capital or inventory
Business Platinum MasterCard
If you have been in business for at least three years, are experiencing growth and need some additional capital, we invite you to experience the TDECU difference. Ready to learn more? Click Here
DEPOSIT PRODUCTS AND ANCILLARY SERVICES INCLUDE:
Checking and Money Market Accounts
Member Share Savings Accounts and Share Certificates
Merchant Credit Card Processing (through our partner vendor)
Merchant Lending (our merchant partners can log in to our partner site)
Commercial Insurance (offered through TDECU Insurance Agency, LLC)
Wealth Management (offered through TDECU Wealth Advisors)
JOIN US!
If you are already a member – Thank You! You already know what member satisfaction means to us.
If you are not already a member, joining is easy. We would welcome the opportunity to add you to our membership. When you join TDECU, you will belong to a community of more than 200,000 members who count on us each day to be part of their lives, both financially and personally. You see, we understand that one is not independent of the other. In order to best support our members, we must know them on a personal basis in order to serve them well financially. We want to know your financial goals and dreams in order to find the products and services we know will help you get there.
Contact us:
For more information, contact us by phone, online, or visit any of our convenient TDECU Member Center locations:
Phone: 800-839-1154 ext. 4618
*Approved to offer SBA loan products under SBA's Certified Lender program.